Can I use QR codes for ticketing, admission, or passes for events, and how does it work?
QR code ticketing and admission offer a convenient and modern way to handle event entry. Instead of traditional paper tickets, attendees can present a digital QR code on their smartphones for seamless check-in.  

With dynamic QR codes, you can say goodbye to lost or counterfeit tickets and long waiting times. Using the allows you to easily track attendance and streamline the admission process. 
Implementing QR Code Passes for Events 
Beyond ticketing, the QR Code Generator Hub app is perfect for generating passes and credentials for various events.


Attendees can easily access their
dynamic QR code
passes on their devices, which grant them access to different parts of an event, workshops, or exclusive areas. You can also customize the QR code passes with branding elements and essential event information. This ensures professional and appealing dynamic QR code design. 
5 Example Use Cases for QR Code Ticketing
Here are some ways on how you can use QR codes for ticketing:
Music Concerts and Festivals  
Music concerts and festivals can implement QR code ticketing for seamless event registration, entry and enhanced security. Attendees receive digital QR code tickets upon purchase, which they present on their smartphones for quick scanning at the event entrance.  


QR code ticketing reduces long queues, minimizes ticket fraud, and provides organizers with real-time attendance data. 
Sports Events 
Utilizing dynamic QR code ticketing is also ideal for sports events.  Whether it's a local game or a major championship, fans can easily purchase tickets online and receive QR codes via email. 


These QR codes grant them access to the event page, stadium or specific seating sections, making entry faster and more efficient. For larger sporting events, you can use QR codes for access control to VIP areas or exclusive fan zones. 
Theatrical Performances and Shows  
Theaters and performance venues can leverage unique QR code ticketing to modernize their ticketing process.  
Show attendees can easily present their QR codes at the entrance, eliminating the need for physical tickets. This streamlined approach for event ticketing enhances the overall theater experience by reducing wait times and enabling contactless check-in. 
Business Conferences and Workshops  
QR code ticketing simplifies event management for business conferences and workshops.  


Upon registration, workshop attendees receive event tickets in the form of QR codes granting access to the event sessions. In-person events like this also help organizers use QR codes to track workshop attendance and gather valuable insights into the most popular sessions. 
Museums and Exhibitions  
For museums and art galleries hosting exhibitions, visitors can purchase tickets online or at the museum and receive QR codes for entry. QR code tickets can also be customized to provide additional information about the exhibits, enhancing the visitor experience. 
How to Create QR Codes for Events 
Creating QR codes is easier than you might think, especially with the QR Code Generator Hub App for Shopify.  
With a few simple steps, you can create QR codes tailored to your event, such as directing attendees to specific event pages,
adding discount codes
, or incorporating branding elements for a personalized touch. 
Here's how to integrate the QR code app into your Shopify store: 


Step 1:
Access your Shopify store admin. Navigate to the "Apps" section and use the search bar to search the QR Code Generator Hub app.

You can also use this direct
link
to the Shopify app store. Once you're there, hit the "Add App" button to initiate the installation process.

Step 2:
Now, let's focus on the left side of your admin panel. You'll find the "Order QR Codes" feature waiting for you there. Give it a click. Inside, you'll notice the "Setup Wizard" option.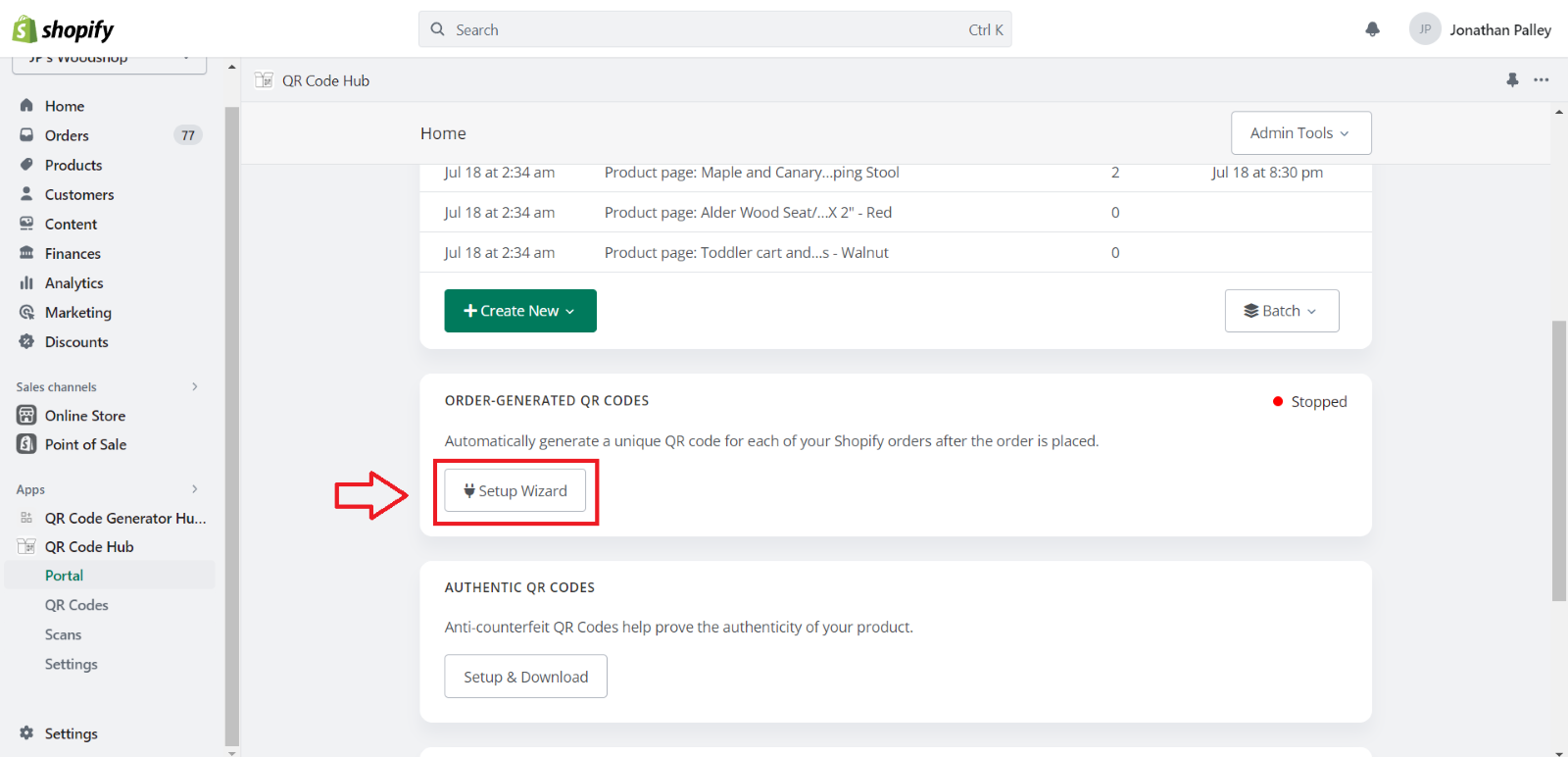 Step 3:
Choose the "Show the Scan History of QR Code (for ticketing)" feature. This is where you can customize the number of QR code scans allowed.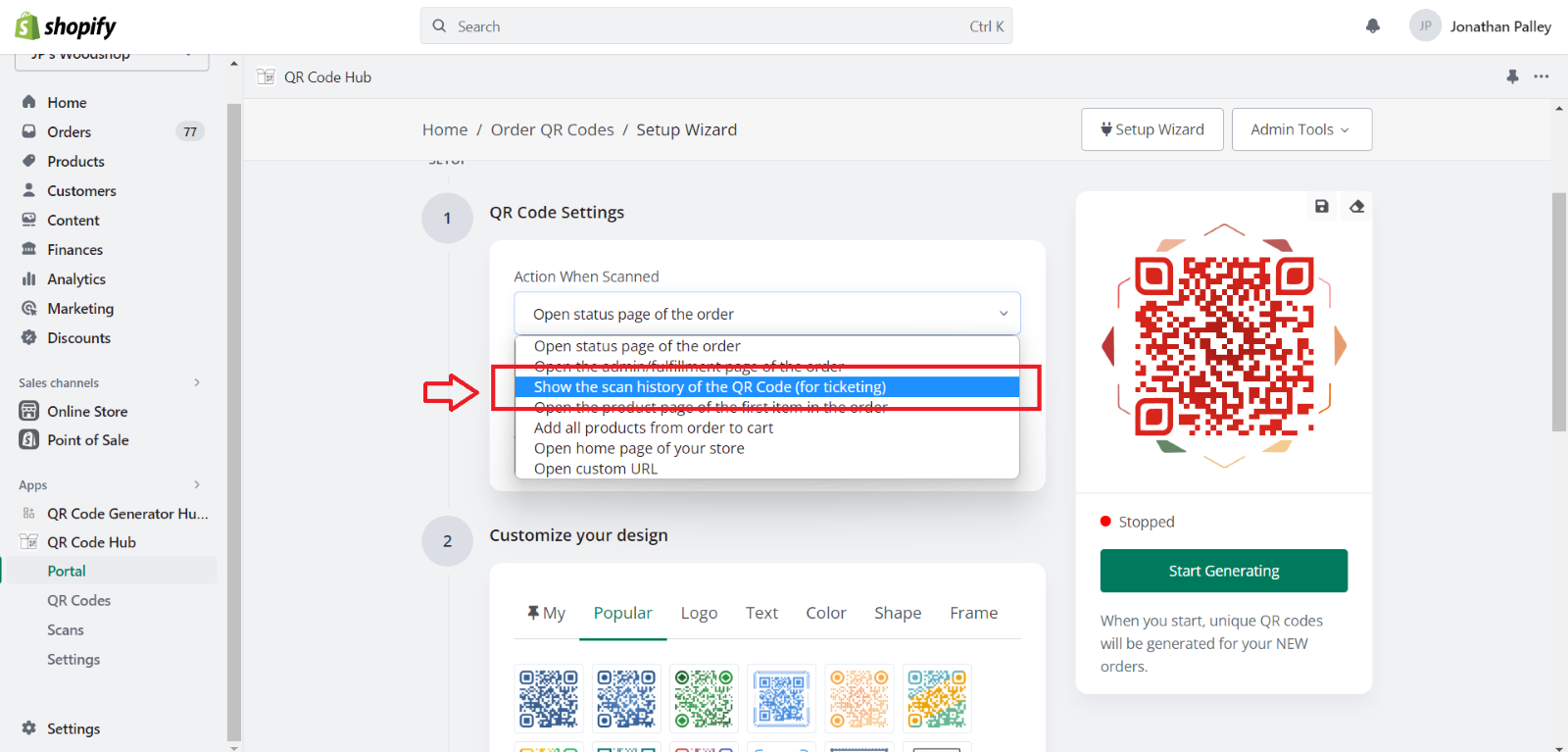 Step 4:
But that's not all – this is your chance to get creative. Tailor the dynamic QR code with a splash of colors, your preferred style, your brand logo, and even weave in order specifics.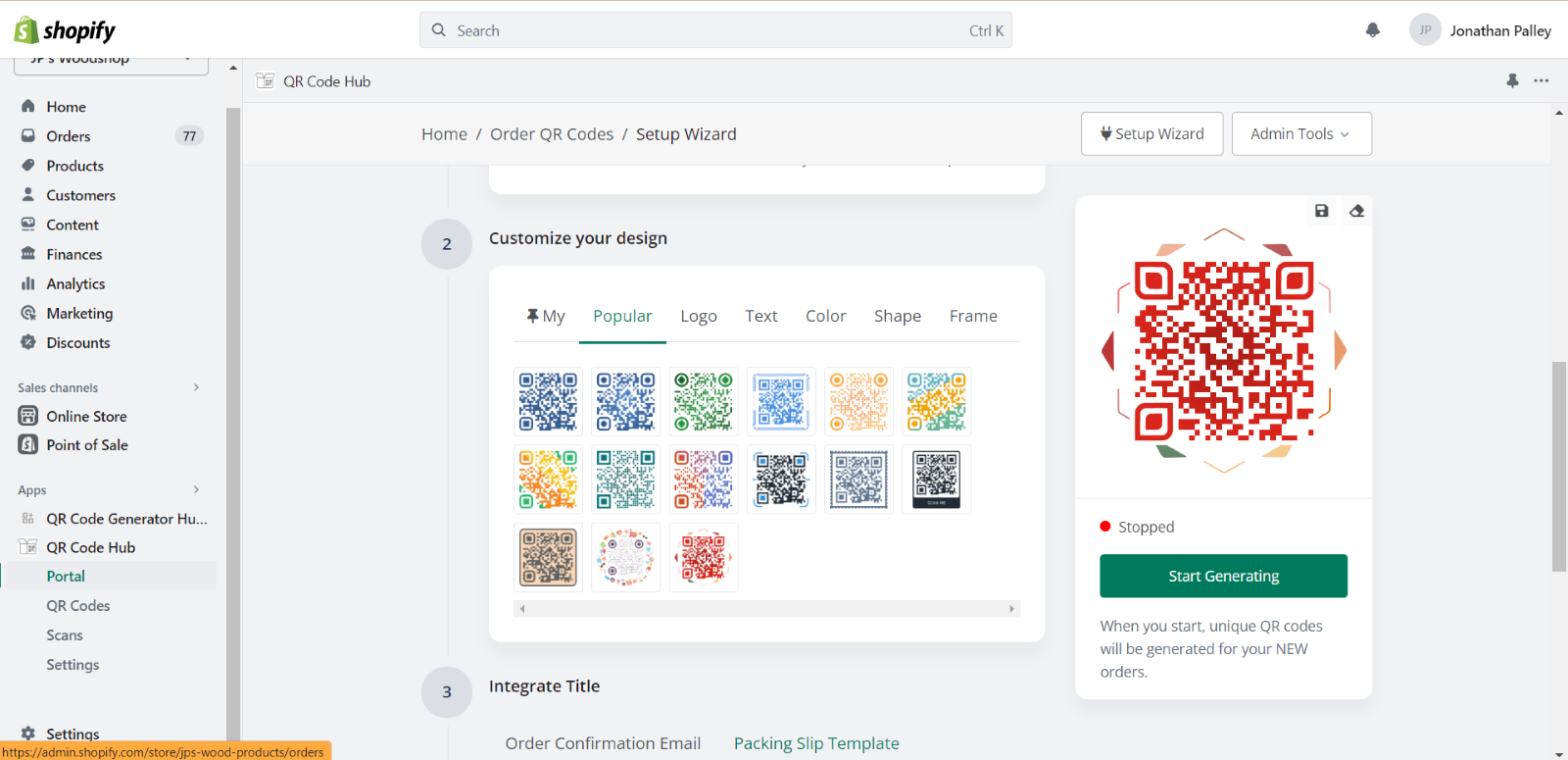 Step 5:
With your QR codes reflecting your unique touch, the next move is to seamlessly insert the generated code into your order confirmation email template. Your guests will then receive their one-of-a-kind QR code tickets along with crystal-clear instructions, ensuring effortless event entry.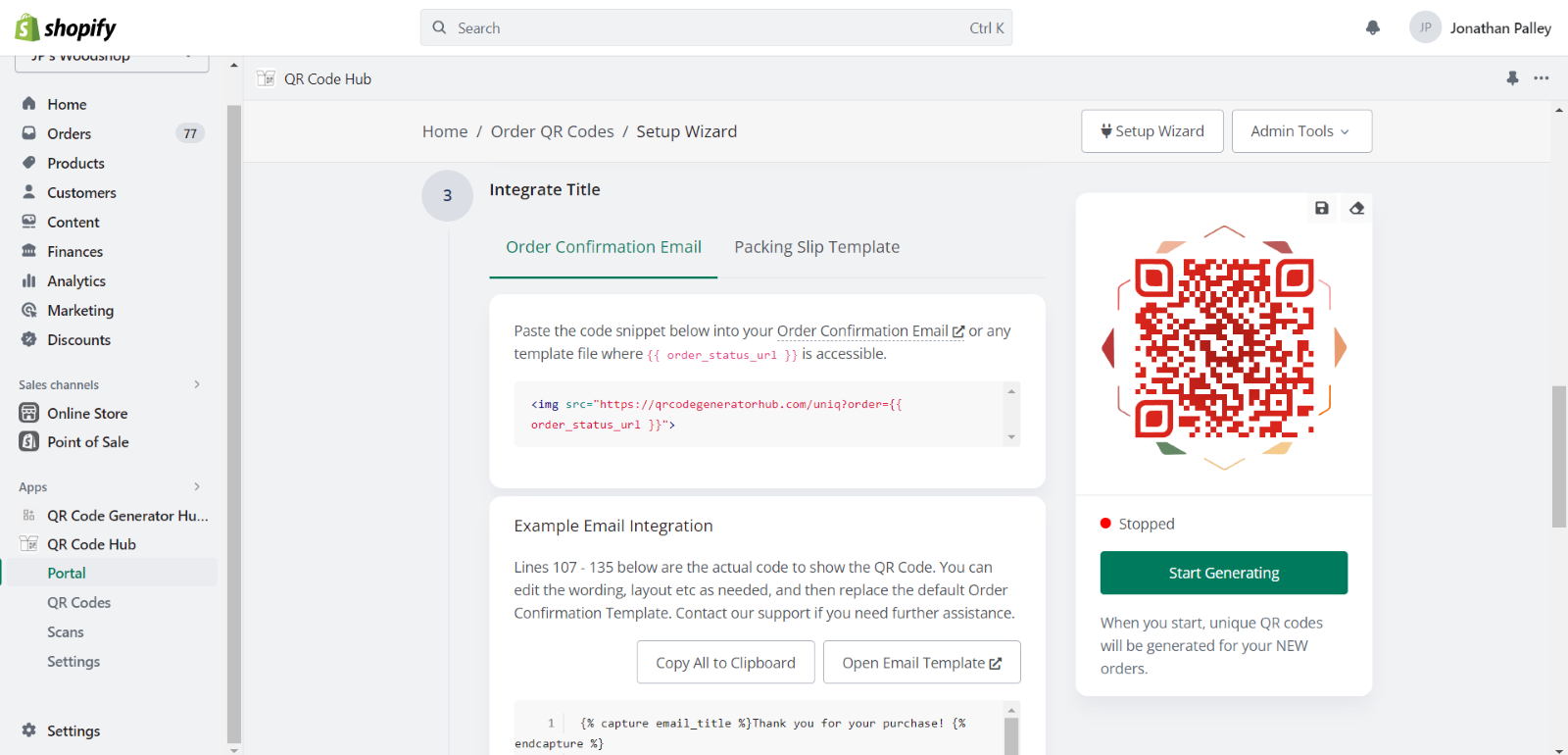 Step 6:
Now that you've got your dynamic QR codes ready to roll, it's time to fuse them harmoniously into your Shopify store. Simply give that "Start generating" button a tap, and witness the enchantment unfold.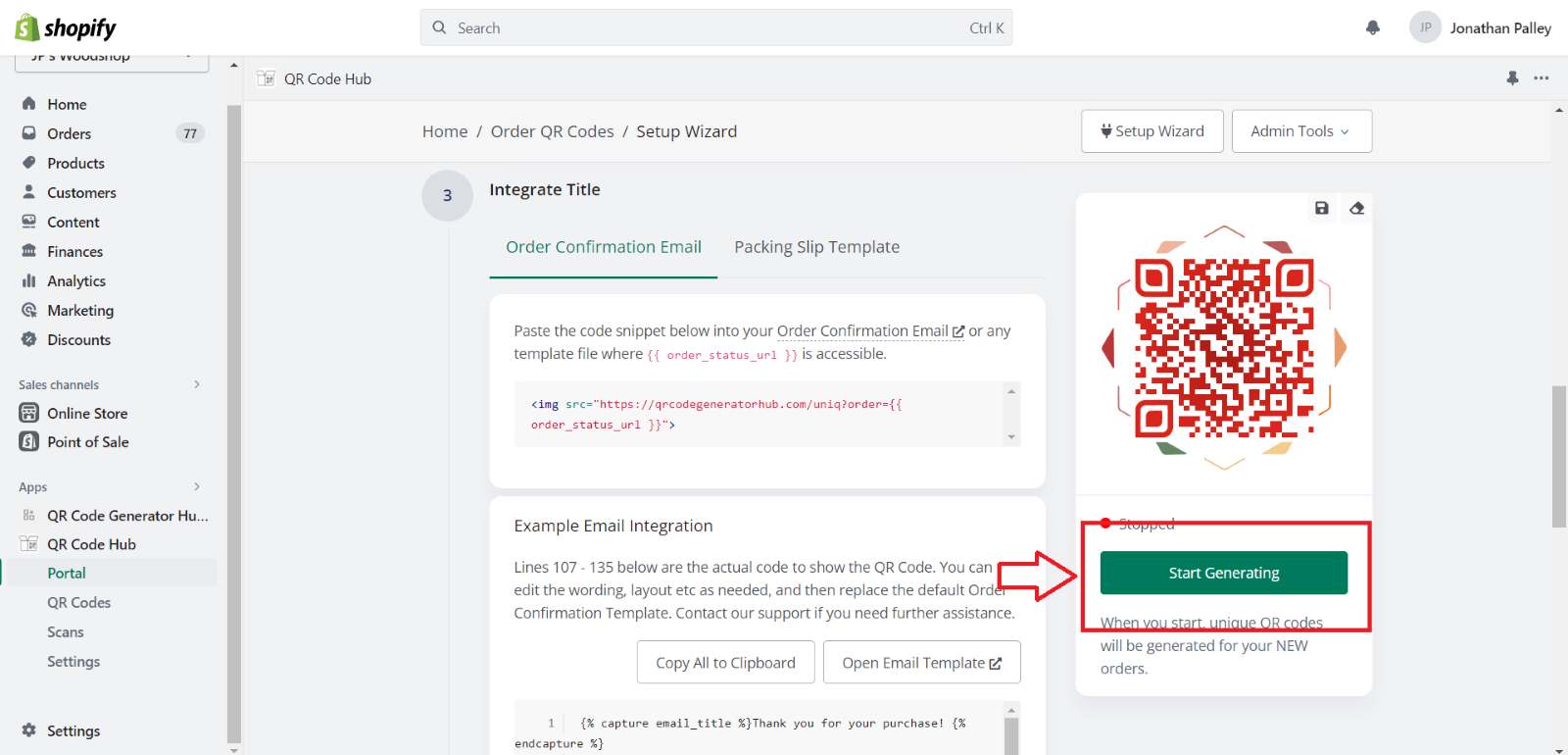 QR code ticketing is a versatile and user-friendly solution that benefits both event organizers and attendees.  Its ease of use, security features, and
data-tracking capabilities
make it an essential tool for modern event management across various industries. 
As QR code adoption continues to grow, events of all scales can benefit from this innovative and user-friendly solution. So, if you're planning an event, why not give QR code ticketing a try?  


Your attendees will surely thank you, and your event will be at the forefront of modern event management practices. If you want to learn more about how QR codes can help ease your event check-in process, feel free to visit our
Academy
.