How do I integrate QR codes into my email confirmation and marketing campaigns?
QR codes have become an increasingly popular tool for Shopify merchants to bridge the gap between the physical and digital worlds. These two-dimensional codes offer a quick and convenient way for Shopify store owners to deliver information, engage customers and enhance their overall online shopping experience.  


In this blog, we'll explore whether can you embed a QR code in an email confirmation and marketing campaigns to elevate your customer engagement and response rates. 
Integrating QR Codes into Email Confirmation 
Email confirmation is a crucial touchpoint in your customer communication strategy. Connecting to your customers via email allows you to build a more personal relationship with them. 


By incorporating QR codes into these messages, you can offer added value to your customers. To achieve this, all you need is the help of a powerful Shopify tool like the
QR Code Generator Hub App
. Here's how you can create your own email QR code: 
Step 1:
Log in to your Shopify store admin. Navigate to the "Apps" section and use the search bar to locate the QR Code Generator Hub app. 

Alternatively, you can directly access the app on the Shopify app store using this
link
. Once there, click the "Add app" button to initiate the installation process.

Step 2:
Head over to the left side of the admin panel and find the "Order QR Codes" feature and click on the "Setup Wizard."  This will trigger a dashboard where you can add QR codes in an email.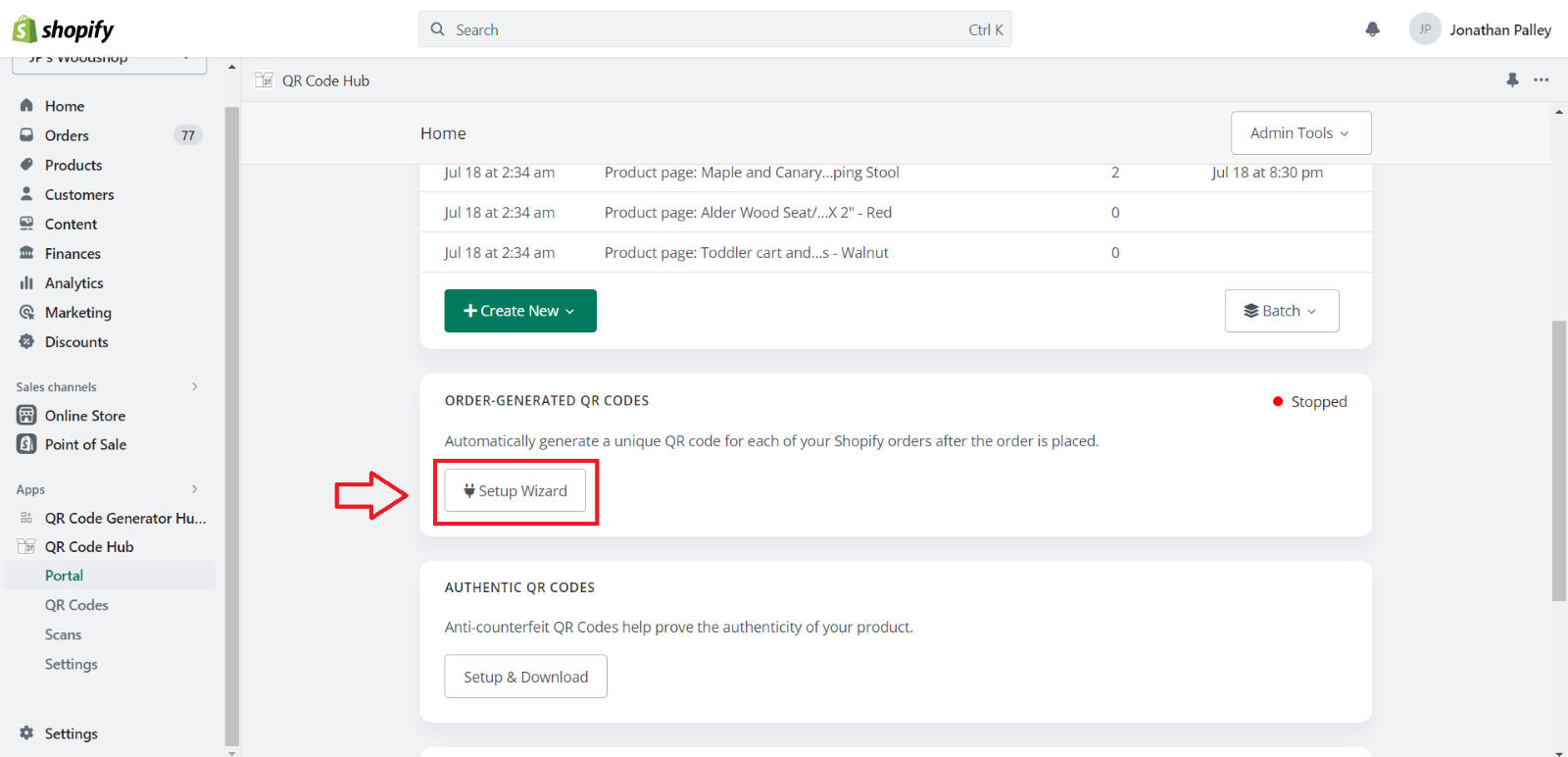 Step 3:
Before you can embed, you should first set up the destination of the email QR codes. As an example, let's choose the option labeled "Show the Scan History of QR Code (for ticketing)."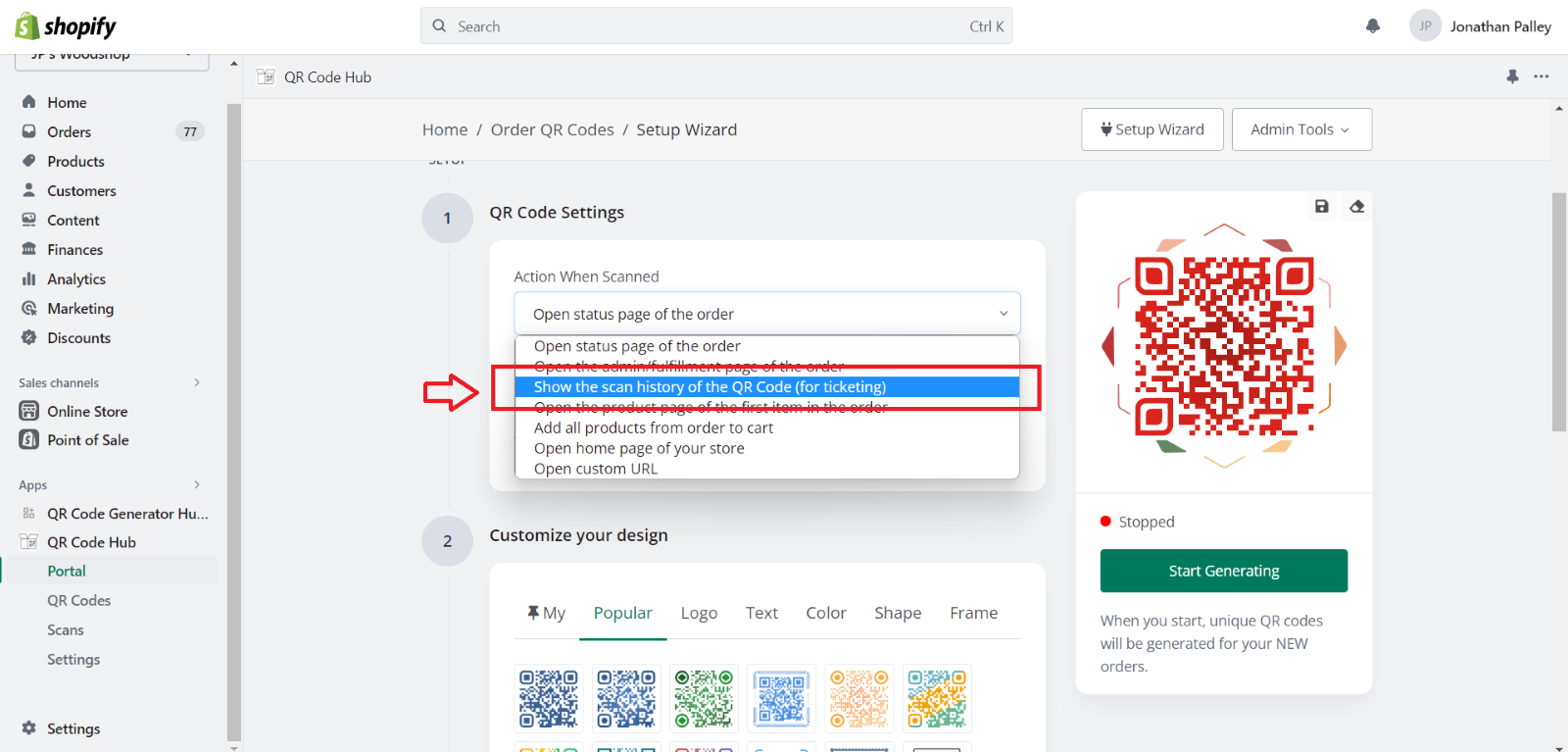 Using this destination will trigger another dialogue box. This is where you can define the number of permitted QR code scans.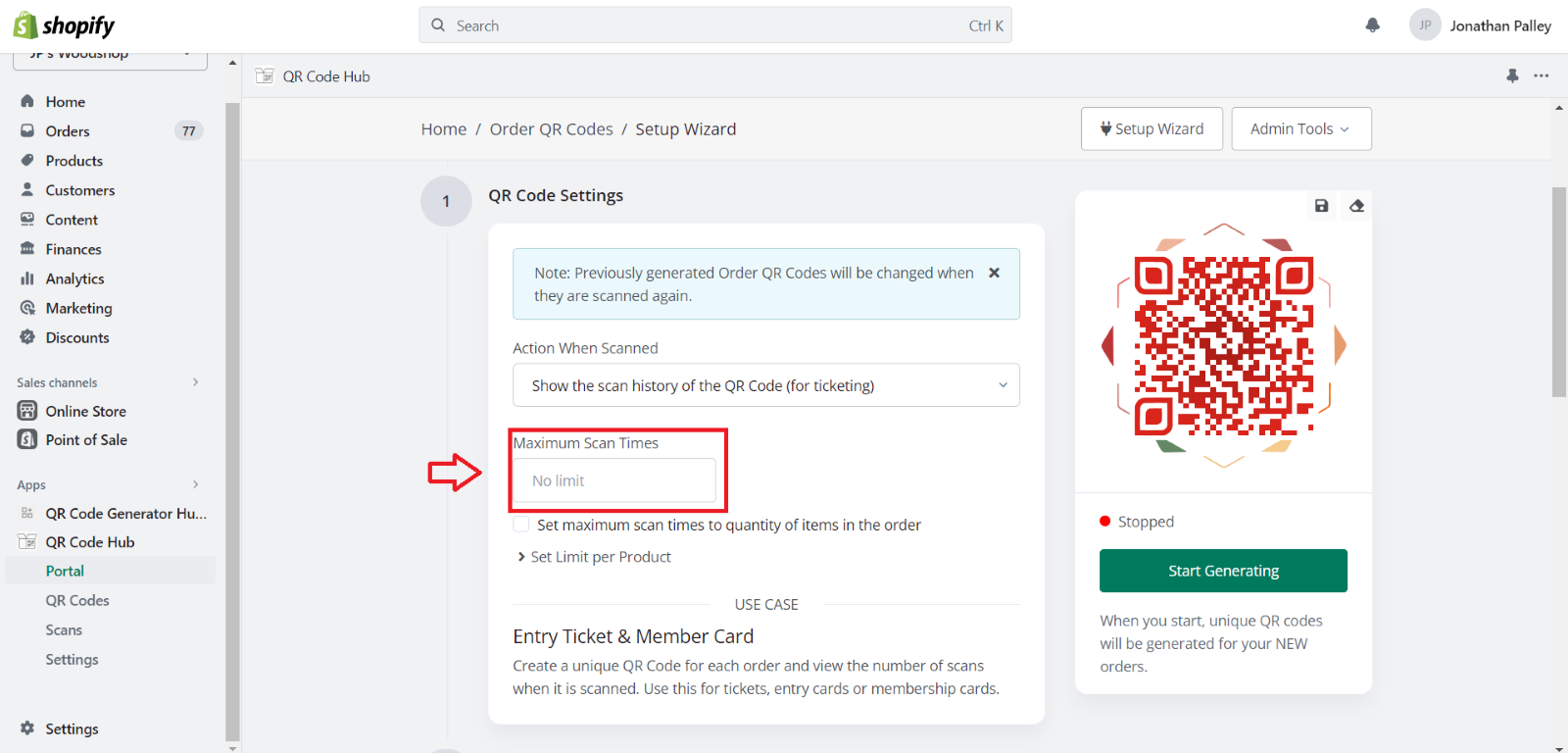 Step 4:
To make your email personalized make sure to create a QR code that aligns with your brand. Son in this step takes time to customize your QR code with a variety of colors, styles, and logos, and frames.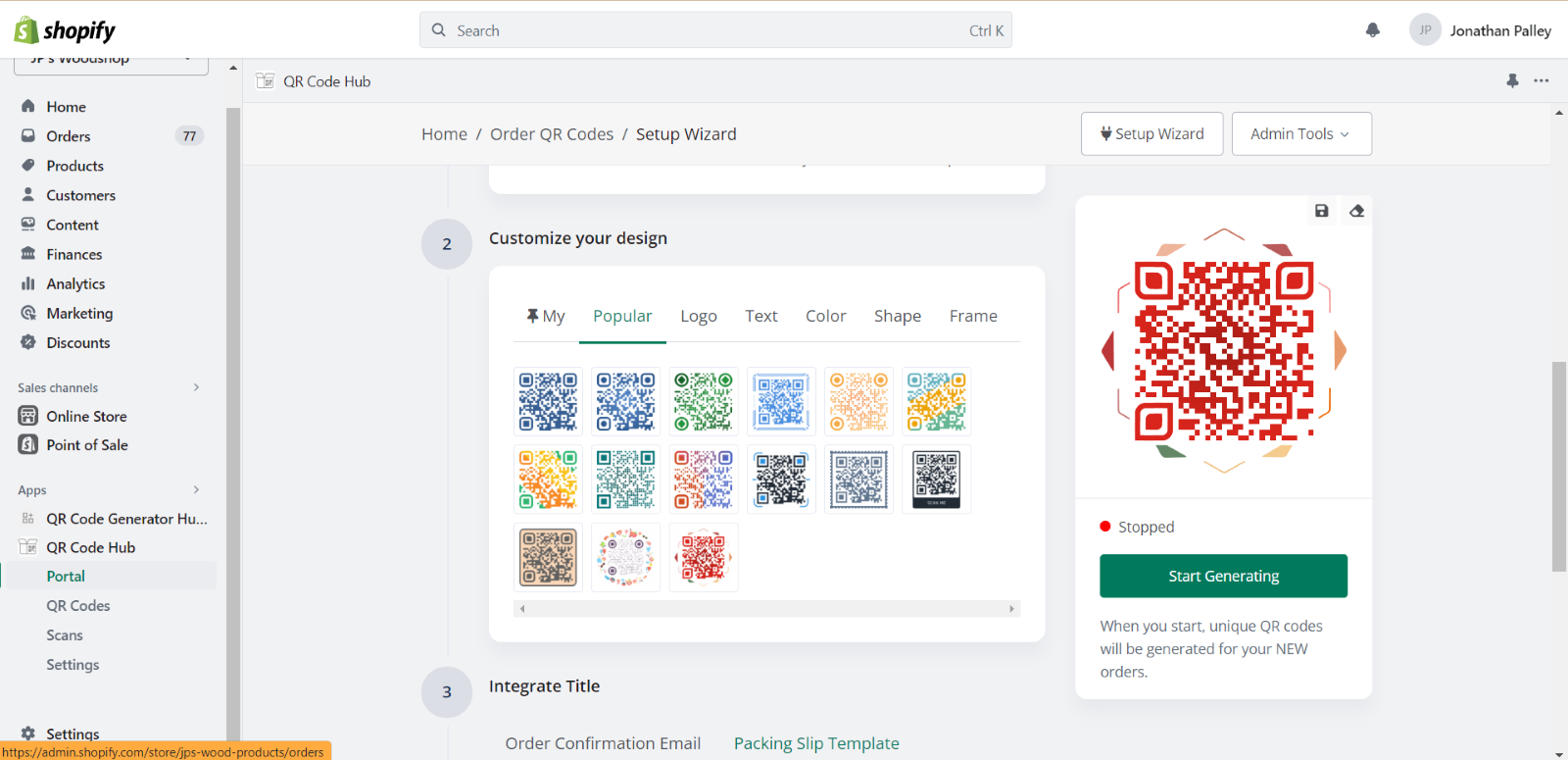 Step 5:
Once you've tailored the QR codes to your liking, effortlessly insert the generated code into your
order confirmation email template
. If you don't know where to access your email template, just click the "Open Email Template" button. This step is crucial to ensure that your customers receive their personalized QR code tickets, accompanied by clear instructions for smooth event access.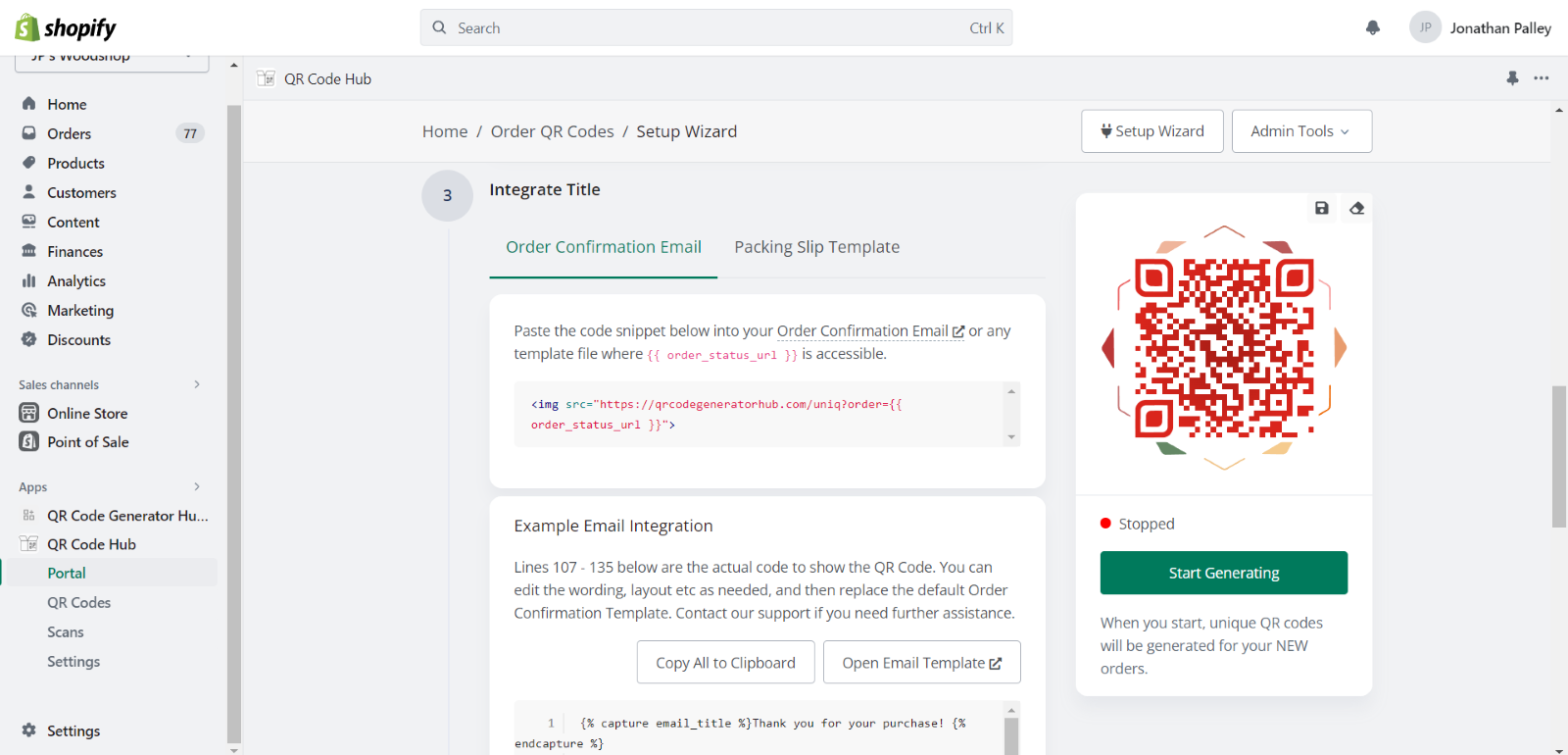 Step 6:
Now that you have your uniquely customized dynamic QR codes all set, it's time to put them into action on your Shopify store. Simply click the "Start generating" button and this should automatically integrate into your customer's confirmation email.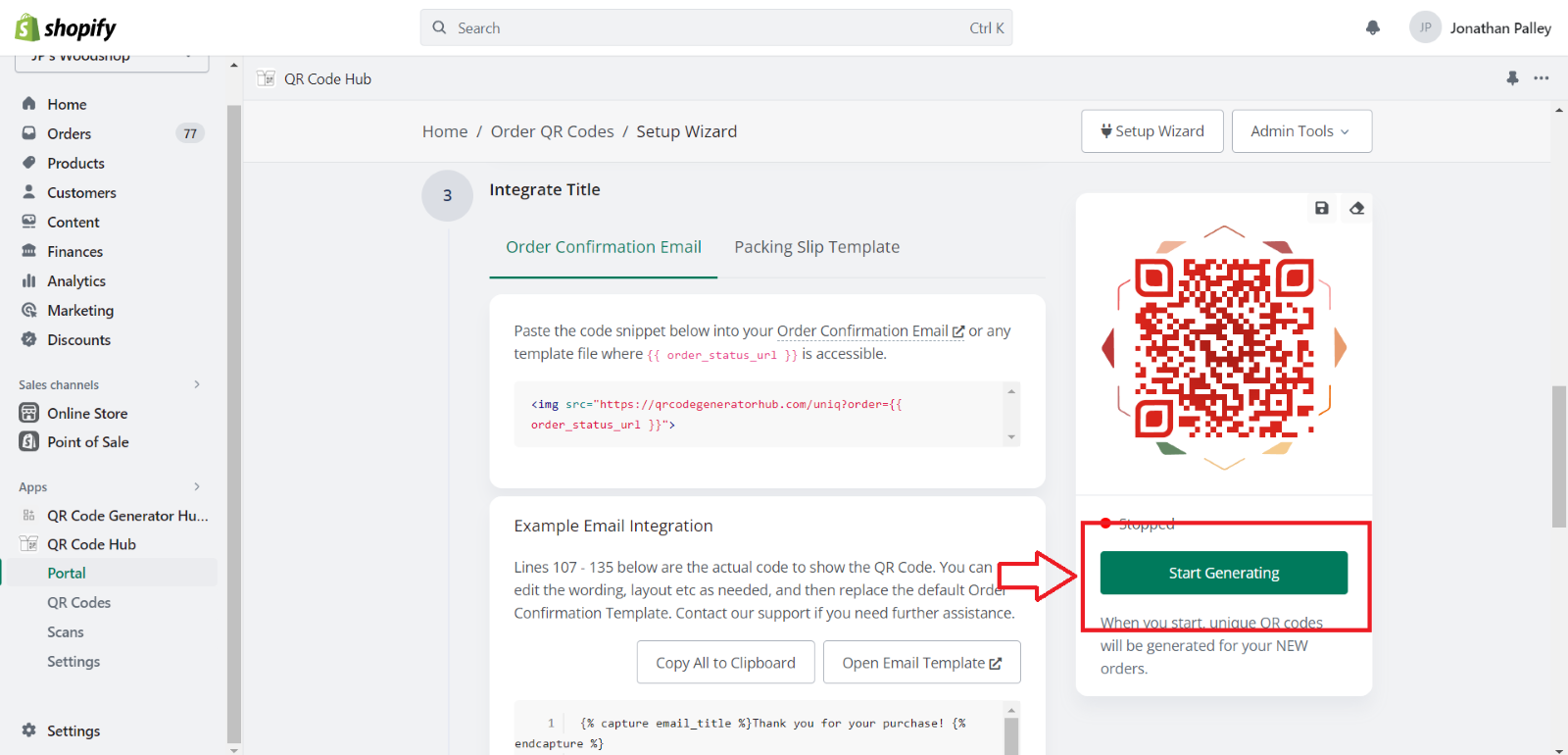 Tips to Maximize QR Codes in Marketing Campaigns 
QR codes can serve as an invaluable tool to boost your marketing campaigns.  


By strategically implementing QR codes in print ads, brochures, or product packaging, you can effectively drive user engagement and interest in your store. Here's how you can leverage QR codes effectively: 
Call-to-Action: Make your dynamic QR codes a clear call-to-action element, enticing users to scan for exclusive content or discounts. 
Multi-Channel Integration: Don't restrict QR codes to just one marketing channel. Employ them across different mediums to reach a wider audience. 
Campaign Tracking: Assign specific QR codes to different campaigns, enabling you to track the performance of each campaign and measure its success. 
By integrating QR codes into your email confirmation and
marketing campaigns
, you can elevate customer engagement, enhance user experiences, and drive conversions. 
Combined with the features in the
QR Code Generator Hub app for Shopify
, you can easily generate a dynamic QR code that drives sales.  Start incorporating dynamic QR codes into your campaigns and unlock their potential for your business.